Volunteer Chairs
Carisa Bohus, Boat Wrangler

Carisa Bohus, (Kah reese sah Bow hooosh!) joined OWSA in 2010 and has been learning how to really feel the wind ever since. I appreciate the many interesting areas OWSA brings to the membership, like volunteering at the Boat Show, and Sail for the Cause, as well as taking OWSA classes and attending sailing community talks. I love the monthly meetings and have learned so much from all my sailing sisters. Being in the BOAT/BOAST program has been a great way to get more time on the water.
Some of the benefits of Wednesday Night Sails are meeting other OWSA members, the skippers in the area, the river, and all the different boats we have the pleasure of sailing on. I'm looking forward to a fantastic 2019 sailing season. Please don't hesitate to give me feedback on the WNS program. I want to meet you and hear about your adventures.
Anna Barendt, Wednesday Night Sail (WNS) Chair
The WNS Chair coordinates weekly sails on Wednesdays matching members up as crew for our Community Skippers. Some of the benefits of Wednesday Night Sails are meeting other OWSA members, the skippers in the area, the river, and all the different boats we have the pleasure of sailing on. Welcome Anna, our 2020 WNS Chair.

Katie Braun, Fireside Chair
Katie Braun was born and raised in Dallas, Texas where she learned to sail with her parents on a Flying Scot (19-foot centerboard sloop). She relocated to the Portland area after earning business and history degrees at Southern Methodist University then becoming a flight instructor, corporate commercial jet pilot and realtor.
Before joining OSWA- she crewed in the Caribbean around British Virgin Islands, St.Martin, Martinique, Guadeloupe, Aruba to Panama and from there down to Columbia, plus San Fransisco to Portland. Although she
might circumnavigate the world one day, she currently enjoys logging time for her future commercial boating license by cruising east and west on the Columbia River right next to the Portland International Airport on most Wed. night OSWA sails and weekends with friends. She loves being fireside orientation chair to encourage sailors - both young and old - to get more involved participating and volunteering in all aspects of the Oregon Woman's Sailing Club.
Beyond Katie's passion for sailing & selling houses since 2003 - she enjoys dating, traveling, reading, gardening, scuba diving, kayaking, fishing, remodeling houses, repairing boats,cars and airplanes, plus water and snow skiing.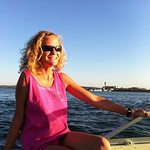 Julie Demaree, BOAST Chair

The BOAST Program is OWSA's Boat Ownership and Skipper Training program which requires a two year commitment. Julie has been the BOAST Program Chair since January, 2019.
Julie has spent a lot of time on both power and sailing boats on rivers, lakes, and coastal waters. Most of her sailing experience was gained on 32 foot Gulf sloop cruising from Portland north to British Columbia and south to the Sea of Cortez in 2001 through 2012. She enjoys the responsiveness and simplicity of small boats and has done some racing on 20 footers. Being the chair for the BOAST program and a skipper for Wednesday Night Sail gives Julie the opportunity to do what she enjoys most — seeing womens' confidence grow as their sailing skills develop.
Allison Chown Communications - Contact: communications@owsa.net
Stephanie Thompson, Fleet Manager
I was born in the Summer of Love, and raised in Beaverton OR, Raced BMX Bicycles since 1983. American Bicycle Association National #3 in 1997, and #9 in 1998. Four time NBL Oregon State Champion 1984-1990's. Built and founded Eichler BMX Park in Beaverton Oregon 1995. Studied Graphic Design at PCC and Northwest University in the 1980's & '90's. Worked as a Mechanical/Graphic Artist at Nike & Adidas during the 1990's and am currently self employed as a graphic artist, specializing in boat and car graphics.
Worked part time as a bicycle mechanic since 1982 to present. 2009 Restored a 1959 School Bus, traveled and lived of the grid in the mountains for 5 years in it. My desire to be more independent and meet people all over the world inspired me to traded up to sailing in 2013. Joined OWSA in 2014. In addition to sailing, activities include riding motorcycles, bicycles, surfing, playing guitar, and singing rock and roll. Cool old stu is irresistible and the challenge to restore old cars, motorcycles, bikes, skateboards, surfboards and boats, then drive them really really fast.
Contact: fleetmanager@owsa.net
This could be you, Merchandise Coordinator
The Merchandise Coordinator identifies OWSA Gear that reflects the vision of promoting women in sailing. Logo integrity is key for OWSA Gear and merchandise is selected that can be used out on the water. The Merch Coordinator receives orders for gear, processes and ensures that product options are updated on the website. Contact volunteer@owsa.net for more information.
Jamie Alexander, Class Registrar - Contact: classregistrar@owsa.net

This could be you, Race Captain

The Race Captain for OWSA is an intermediate to advanced sailor who has sailing experience racing. The Race Captain coordinates chalkboard sessions, on the water training, understanding of courses, roles on a crew and rules of racing. Contact volunteer@owsa.net for more information.

This could be you, First Mate Chair
The First Mate Chair is responsible for certifying First Mates and assessing sailors skill level. At the same time, the program is intended to help sailors understand their opportunities for advancing their skill level as well as understanding the responsibilities of a First Mate. Contact volunteer@owsa.net for more information.

Oshra Rapaport, Volunteer Coordinator - Contact: volunteer@owsa.net

Melissa Cearlock, Webmaster
Melissa is native to the Vancouver/Portland area, sailing since the age of 6. Traveling offshore, exploring the Puget Sound, and many other places even taught kids to sail at West Moorland Pond while standing in water up to her waist, and in the tropics while stationed in Guam during her time in the Navy. Melissa got her first boat in 2007, a 26ft Paceship and spent many weekends on the Chesapeake Bay, MD. Returning to the Pacific NW without her boat in late 2013 Melissa discovered OWSA at the Portland Boat Show in Jan of 2014 and joined that Feb. She has taken classes, volunteered at OWSA events and is looking forward to many more.
Melissa has served as our 2015-2017 Treasurer, 2014 Email Coordinator, 2019 Operations Director and Webmaster.
Contact: webmaster@owsa.net