Current Volunteers
PROGRAMS
BOAST Chair, Julie Demaree
The BOAST Program is OWSA's Boat Ownership and Skipper Training program which requires a two year commitment. Julie has been the BOAST Program Chair since January, 2019.
Julie has spent a lot of time on both power and sailing boats on rivers, lakes, and coastal waters. Most of her sailing experience was gained on 32 foot Gulf sloop cruising from Portland north to British Columbia and south to the Sea of Cortez in 2001 through 2012. She enjoys the responsiveness and simplicity of small boats and has done some racing on 20 footers. Being the chair for the BOAST program and a skipper for Wednesday Night Sail gives Julie the opportunity to do what she enjoys most — seeing womens' confidence grow as their sailing skills develop.
---
Wednesday Night Sail (WNS) Coordinator, Anna Barendt
The WNS Chair coordinates weekly sails on Wednesdays matching members up as crew for our Community Skippers. Some of the benefits of Wednesday Night Sails are meeting other OWSA members, the skippers in the area, the river, and all the different boats we have the pleasure of sailing on. Welcome Anna, our 2020 WNS Chair.
---
Boat Wrangler, Carisa Bohus

Carisa Bohus, (Kah reese sah Bow hooosh!) joined OWSA in 2010 and has been learning how to really feel the wind ever since. I appreciate the many interesting areas OWSA brings to the membership, like volunteering at the Boat Show, and Sail for the Cause, as well as taking OWSA classes and attending sailing community talks. I love the monthly meetings and have learned so much from all my sailing sisters. Being in the BOAT/BOAST program has been a great way to get more time on the water.
Some of the benefits of Wednesday Night Sails are meeting other OWSA members, the skippers in the area, the river, and all the different boats we have the pleasure of sailing on. I'm looking forward to a fantastic 2019 sailing season. Please don't hesitate to give me feedback on the WNS program. I want to meet you and hear about your adventures.
---
Fleet Manager, Rosario Patino
My first exposure to sailing was as part of a club team in the Navy, lake sailing on Lasers. The thing that really got me hooked came several years later, when I helped deliver a boat from Venezuela to Ft. Lauderdale. Since moving to Portland, I've periodically taken up racing or cruising whenever the opportunity has come up.
Over the last few years, OWSA's BOAST program has been my sailing focus. In many ways, it's been my favorite sailing experience to date. And the program worked! As of this year I'm the new owner of an Ericson 27! I look forward to lots more sailing adventures and continuing to learn from those around me.
---
Skipper Vetter, Neonta Bell

Love to sail! Grew up sailing on a lake. Own 26ft Hunter, and a 14ft Lido that I moor down by Eugene. Raced Lazers and Lightening's in my youth. Have crewed bringing boats up and down the west coast, and loved it! Would love to participate in some off shore racing.
Email: skippervetter@owsa.net
---
EDUCATION
Race Captain, Stephanie Walker
Sailing/racing since 2015. I own a Hunter 30 sailboat. Skipper for WNS. 2020 Race Captain.

Email: racing@owsa.net
---
Class Registrar - This could be you!
Email: volunteer@owsa.net

---
First Mate Coordinator - Open in 2021
The First Mate Chair is responsible for certifying First Mates and assessing sailors skill level. At the same time, the program is intended to help sailors understand their opportunities for advancing their skill level as well as understanding the responsibilities of a First Mate. Check back in 2021 for more information
Email: volunteer@owsa.net
---
MEMBERSHIP/SOCIAL
Fireside Coordinator, Katie Braun
Katie Braun was born and raised in Dallas, Texas where she learned to sail with her parents on a Flying Scot (19-foot centerboard sloop). She relocated to the Portland area after earning business and history degrees at Southern Methodist University then becoming a flight instructor, corporate commercial jet pilot and realtor.
Before joining OSWA- she crewed in the Caribbean around British Virgin Islands, St.Martin, Martinique, Guadeloupe, Aruba to Panama and from there down to Columbia, plus San Fransisco to Portland. Although she might circumnavigate the world one day, she currently enjoys logging time for her future commercial boating license by cruising east and west on the Columbia River right next to the Portland International Airport on most Wed. night OSWA sails and weekends with friends. She loves being fireside orientation chair to encourage sailors - both young and old - to get more involved participating and volunteering in all aspects of the Oregon Woman's Sailing Club.
Beyond Katie's passion for sailing & selling houses since 2003 - she enjoys dating, traveling, reading, gardening, scuba diving, kayaking, fishing, remodeling houses, repairing boats,cars and airplanes, plus water and snow skiing.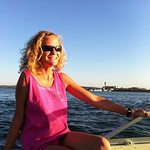 Email: fireside@owsa.net
---
Nauti Drinks Coordinator, Katie Phillips

Katherine started sailing when she was 24 years old and got her first sailboat; a 18' Hunter. She completed her first sailing class at Willamette Sailing Club. Katherine joined OWSA in 2012.
She participates regularly in the Wednesday Night Sails. Katherine recently completed the First Mate Program. She enjoys crewing on different boats at Portland Yacht Club, Set Sail for a Cause, Mauna Elliott & SYSCO races. She just started volunteering with the SYSCO race events.
---
Membership Manager, this could be you!
Email: volunteer@owsa.net
---
Volunteer Coordinator, Oshra Rapaport

Email: volunteer@owsa.net
---
Merchandise Coordinator, Alyson Day
I started learning how to sail in Bellingham in 2004 by joining the Corinthian Yacht Club for Wednesday night racing. Recently, I decided to invest in becoming a more confident sailor so I can eventually own a small cruising boat of my own. I work as a project manager for e-learning development and enjoy cycling.
Email: merchandise@owsa.net
---
TECHNOLOGY
Webmaster, Melissa Cearlock
Melissa is native to the Vancouver/Portland area, sailing since the age of 6. Traveling offshore, exploring the Puget Sound, and many other places even taught kids to sail at West Moorland Pond while standing in water up to her waist, and in the tropics while stationed in Guam during her time in the Navy. Melissa got her first boat in 2007, a 26ft Paceship and spent many weekends on the Chesapeake Bay, MD. Returning to the Pacific NW without her boat in late 2013 Melissa discovered OWSA at the Portland Boat Show in Jan of 2014 and joined that Feb. She has taken classes, volunteered at OWSA events and is looking forward to many more.
Melissa has served as our 2015-2017 Treasurer, 2014 Email Coordinator, 2019 Operations Director and Webmaster.
Email: webmaster@owsa.net
---
Communications Coordination, Fernanda Gwinner
Email: communications@owsa.net
---
Technology Coordinator, Christine Shook
Email: tech@owsa.net