Volunteer Chairs
Carisa Bohus - Wednesday Night Sail Chair - Email Me!
Carisa Bohus, (Kah reese sah Bow hooosh!) who does statistics in agriculture, joined OWSA in 2010 and has been learning how to really feel the wind ever since. I appreciate the many interesting areas OWSA brings to the membership, like volunteering at the Boat Show, and Sail for the Cause, as well as taking OWSA classes and attending sailing community talks. I love the monthly meetings and have learned so much from all my sailing sisters. Being in the BOAT program has been a great way to get more time on the water.
Some of the benefits of Wednesday Night Sails are meeting other OWSA members, the skippers in the area, the river, and all the different boats we have the pleasure sailing on. I'm looking forward to a fantastic 2017 sailing season. Please don't hesitate to give me feedback on the WNS program. I want to meet you and hear about your adventures.
Delona Lang - Membership Chair - Email Me!
Delona joined the OWSA volunteer team as the Membership Chair for the 2018 / 2019 membership years.
Katie Braun - Fireside Chair - Email Me!
Katie Braun was born and raised in Dallas, Texas where she learned to sail with her parents on a Flying Scot (19-foot centerboard sloop). She relocated to the Portland area after earning business and history degrees at Southern Methodist University then becoming a flight instructor, corporate commercial jet pilot and realtor.
Before joining OSWA- she crewed in the Caribbean around British Virgin Islands, St.Martin, Martinique, Guadeloupe, Aruba to Panama and from there down to Columbia, plus San Fransisco to Portland. Although she
might circumnavigate the world one day, she currently enjoys logging time for her future commercial boating license by cruising east and west on the Columbia River right next to the Portland International Airport on most Wed. night OSWA sails and weekends with friends. She loves being fireside orientation chair to encourage sailors - both young and old - to get more involved participating and volunteering in all aspects of the Oregon Woman's Sailing Club.
Beyond Katie's passion for sailing & selling houses since 2003 - she enjoys dating, traveling, reading, gardening, scuba diving, kayaking, fishing, remodeling houses, repairing boats,cars and airplanes, plus water and snow skiing.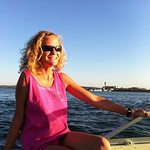 Jen Wiseman - Class Registrar - Email Me!
Jen joined the OWSA volunteer team as the Class Registrar to manage the registration process for upcoming classes in 2018 / 2019.