Board Members
The Oregon Women's Sailing Association (OWSA) is an all volunteer 501 c 3. Our organization is comprised of volunteers willing to devote time and energy to oversee the operation of OWSA. In addition to the board of directors, OWSA is fortunate to have a host of volunteers who act as program chairs coordinating our educational opportunities, activities and events. We are always looking to the future to improve our educational offerings and calendar of events to enhance the experience of our members.
There are a myriad of opportunities to become involved as a volunteer for OWSA. Opportunities range in duration from a couple of hours assisting with a program to chairing a program. For more information about how to get involved, check out our volunteer opportunities or contact any of our Board members.
The Board is made up of five Flag Officer positions (Commodore, Vice Commodore, Rear Commodore, Secretary, and Treasurer) and the remaining board members are Directors, many of which also hold program chair positions.
Check out the 2018 Slate of Directors who were unanimously voted in as new Directors at the recent Annual Meeting:
Slate of New Board Members_2018.pdf
MC Rydzewski, Commodore
From the Great Lakes to the vast bodies of ocean, MC has always had the water being one of her biggest teachers and holders of dreams. After moving throughout the coastal cities of California and travelling the globe, Portland became her home. Here, she quickly looked into finding her sea legs, sailing education (WOW these rivers---the Columbia and Willamette!), a great opportunity to meet women, and the ability to give back to the communities she is involved in.
MC found and fell in love with OWSA. OWSA has empowered her to obtain one dream at a time with the crew of amazing women aiding and teaching her. It also has allowed her to use her inner geek, love for giving back, and professional background to get involved with great opportunities like Set Sail for a Cause, racing with SYSCO, and the BOAT Ownership Program. MC looks forward to deepening her education and hopes to be able to spread the joy of sailing with young women.
MC served as our 2016 Vice Commodore and is currently serving as the 2017 Commodore and Director.
Tressa Yellig, Vice Commodore
Originally from Ohio, there was no way to know how much the water would claim her until she moved to the west coast. As a SUP'er, kayaker and floating home dweller, the tease of getting on a sailboat was almost too much to bear until she discovered OWSA in 2013.
Ever since, she swoons over and enthusiastically pursues every opportunity to get on a Wednesday Night Sail, help in a race, class or event that comes up. Though a nature lover at heart, sailing is the only sport that quiets her mind and soothes her soul.
As 2014 Education Galley Gal, she cooked for the OWSA classes taught at RCYC (Rose City Yacht Club).
Tressa runs a small traditional foods business in Portland called Salt, Fire & Time. She teaches cooking and nutrition classes around town and has since 2009.
Tressa served as our 2014 Education Galley Gal and as 2015-2016 Director
April Deines, Past Commodore
I fell in love with sailing on Lake Pend Oreille in Northern Idaho. Every Thursday night I would watch from our motor boat the organized chaos of the regatta in front of me. From the first time I saw this I knew I wanted to be a part of the magic. I did what every unknowledgeable wannabe sailor would do; purchase a fixed keel race boat. I never put that boat in the water; instead it would take me another ten years to finally have a boat of my own.
I've since gone on to acquire my bareboat certification and have high hopes of sailing the world. In the mean time, I still have plenty to learn and there is no better place for me to do that than on the Columbia River with OWSA.
April served as our 2014 Social Chair, 2015 Vice Commodore, 2016 Commodore and now as our 2017 Rear Commodore and a Director.
Melissa Cearlock, Treasurer, Email Coordinator, Webmaster
Melissa is native to the Vancouver/Portland area, and has been sailing since the age of 6: traveling offshore, exploring the Puget Sound, and many other places, even teaching kids to sail at West Moorland pond while standing in cold water up to her waist and in the tropics while stationed in Guam during her time in the Navy.
Melissa got her first boat in 2007, a 26ft Paceship and spent many weekends exploring Chesapeake bay on the East Coast.
Returning to the Pacific NW without her boat in late 2013 Melissa discovered OWSA at the Portland Boat Show and joined in Feb. of 2015. Since joining she has taken classes and volunteered at OWSA events, and is looking forward to many more!
Melissa serves as our 2016-2017 Treasurer, our Email Coordinator, and webmaster.
Carin Berg, Secretary
After one season with OWSA, Carin is impressed with the collision of adventure and collaboration she has witnessed within the organization. Every penny she spent on the Sailing Basics Short Course and the Racing Clinic was worth it 100 fold, and Carin is filled with gratitude that a non-profit like OWSA exists.
Before OWSA adventures include hiking the John Muir trail, kayaking in New Zealand, and riding bikes around Washington and Oregon.
Carin serves as our 2016-2017 Secretary and Director
Erica Liepelt, BOAT Program Chair / Director
I grew up on Puget Sound beach combing, biking and sailing with my brother.
Joining OWSA has allowed me to consider myself a sailor, possibly someday a racer! I work as a hand therapist, am greeted home by tween girls, a husband and various pets.. I'm excited to volunteer with OWSA and begin returning the favors!
(Note: To read more about becoming an active OWSA member, click here.)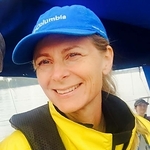 Katie Drew, Education Chair / Director
Katherine started sailing when she was 24 years old and got her first sailboat; a 18' Hunter. She completed her first sailing class at Willamette Sailing Club. Katherine joined OWSA in 2012.
She participates regularly in the Wednesday Night Sails. Katherine recently completed the First Mate Program. She enjoys crewing on different boats at Portland Yacht Club, Set Sail for a Cause, Mauna Elliott & SYSCO races. She just started volunteering with the SYSCO race events.
Julia Tucker, Communications Chair / Director
My first real memory of sailing was as a small child of 4, dangling over the downside of our friends' Cal25, my hands in the water as we sailed the San Joaquin river. My dad had tied my life jacket to the winch and was holding on to my shorts, he says I was laughing at the water and when we tacked, came up with a huge grin on my face.
When I was 8, my brother and I helped Dad paint and finish our 16-foot racing sloop (a Windmill). That summer he began teaching us to sail, and the following year we began racing with him on Sundays.
When I was 15,I helped launch a "sailboats only" Sea Scout ship a tour sailing club. And when my family moved up to a Columbia Challenger (24 footer) we gave our Wind mill to the Sea Scouts to further their mission in teaching others the art and science of seamanship.
After a way-too-long hiatus, I found my way to OWSA in 2005 and have enjoyed participating in our programs. I find the more I sail, the more I learn, and the more fun I have.
Liv Ormond, First Mate Chair / Director
Liv has been sailing since 2002 and previously served as the Treasurer, volunteered for various events and was the Fireside Coordinator for three years. Liv loves OWSA and offers her boat Mischief on Wednesday Night Sails. She joined OWSA in 2009 and can't get enough of supporting women in learning to sail.
Shancy Holland, Technology Chair / Director
Shancy started sailing in 1990 on Lake Minnetonka in the Twin Cities. She loves being on the water, has had fun racing and has absolutely enjoyed the people she has met sailing. She joined OWSA in 2009 and has been serving as database administrator for the past 3 years and technology chair for the past year. She gets out on Wednesday Night Sails as often as possible, is a first mate and has volunteered for numerous OWSA events. Shancy is constantly learning and improving her sailing skills, and is learning a lot about boat ownership since she purchased a Catalina 22 a few years ago. A two week sailing trip to the British Virgin Islands in 2015 inspired her to continue learning about navigation for future sailing adventures.

Elaine Ginader, Boat Show Chair / Director
Being retirement age, I took a long look to the future ahead. Working in a small cubicle was not the life for me. The longing to be close to the water was getting too great. So, I took the plunge and sought a career change. I now work in a canvas shop and am living my dream. Joining OWSA, learning to sail and being out on the water has been a passion of mine for a long time and have been the best moves that anyone can imagine. Elaine served as Chandlery (Merchandise) Chair, Class Gatekeeper. Elaine is our 2017 Galley Gal,
Tiffany Levesque, Chandlery Chair / Director
Tiffany comes to OWSA with a background in scuba diving, surfing, and a lifelong dream of becoming a sailor. After picking up a floating keychain at the 2014 Portland Boat Show, she signed up for Set Sail for a Cause, joined OWSA, and has not looked back!
While not spending time on or under the water, Tiffany enjoys photography, watercolor, and trekking around the globe. She is fluent in Spanish and ready to help you sail to warmer climes!
She would like to add, "OWSA has given me a new passion for the Pacific Northwest. I would love to see that passion ignite our young women with a thirst to explore, be self-sufficient, and self-confident in all life's pursuits! "
Feel free to let her know if you have any recommendations for our merchandise department!
Downloads